Technology Optimization
eHealth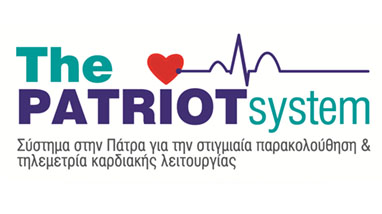 Duration:07/2014 - 10/2015
Client:General Secretariat for Research & Technology
Healthcare is expected to transform the near future thanks to wearable health monitoring that makes it possible to offer such services as ubiquitous monitoring of patients'. The continuous monitoring of vital patient signals has been primarily motivated by the need to put a barrier in ever-increasing healthcare costs.
Recent technological advances in miniaturized healthcare sensing devices, wireless communications, microelectronics, and embedded systems have contributed towards this end.

The PATRIOT (PATRas Instant Observation and Telemetry)) heart system comprises a miniature, wearable, non-invasive, real-time electrocardiography system alongside a relevant Cloud platform to support proactive personal health management of cardiology patients.

The PATRIOT system makes it possible to have ECGs in real-time for the necessary period, e.g., one-year post PCI. This period enhances the peace of mind, safety, and quality of life of relevant patients that can have the reassurance that in the case of a chest pain episode, they can have their ECG taken, recorded, and transmitted to medical personnel. On the other hand, the PATRIOT system drives to diminish unnecessary ambulance calls and relevant hospitalizations, thus substantially reducing the overall healthcare system costs. The system is based on a wearable ECG device that communicates wirelessly with the patient's mobile phone to send its recorded ECGs or potential abnormal conditions to a Cloud platform.

The PATRIOT system aims at delivering remotely high-quality electrocardiograms (ECGs). The system comprises a 12-channel, non-invasive, miniaturized, user-friendly, wearable ECG device, a mobile application that may run on the patient's or the doctor's mobile device, and a cloud application. The system may contribute to the quest for a cost-efficient ECG monitoring system providing enhanced peace of mind, quality of life, and safety to patients while compensating for healthcare costs relevant to unnecessary hospital admissions and ambulance calls. Future work is related to necessary clinical testing according to specified scenarios.

The Greek supported this nationally-funded research project "PATRIOT" –NSRF 2007-2013, Call: Cooperation 2011.